As the gaming world gears up for The Game Awards 2023, anticipation reaches a fever pitch with Baldur's Gate 3 and Alan Wake 2 leading the nominations. These two titans are contending for the coveted Game of the Year title, among other prestigious awards, marking a significant moment in gaming history.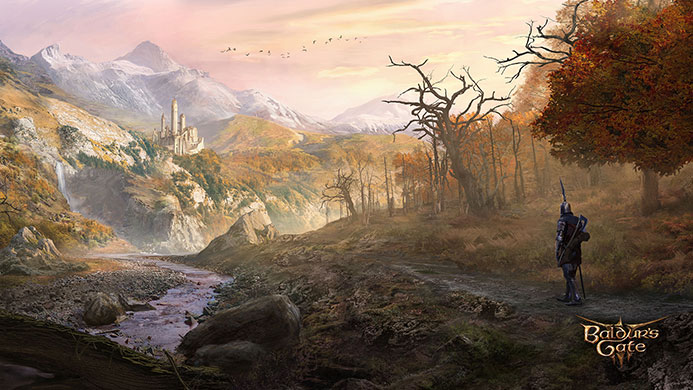 Nomination Highlights
A Duel for Dominance
Baldur's Gate 3 and Alan Wake 2, each with eight nominations, have emerged as the frontrunners in this year's race. They face stiff competition from Marvel's Spider-Man 2, the Resident Evil 4 remake, Super Mario Bros. Wonder, and The Legend of Zelda: Tears of the Kingdom.
The Rise of Indie Gems
The indie scene has not been overshadowed, with games like Cocoon, Dave the Diver, and Dredge earning critical acclaim. This recognition reflects the increasing importance and influence of indie games in the industry.
Redemption and Recognition
Notably, Cyberpunk 2077 has made a remarkable comeback, securing four nominations, including for its Phantom Liberty expansion. This marks a significant turnaround from its initially troubled release.
Publisher Prowess
Nintendo leads the publisher pack with 15 nominations, closely followed by Sony and Microsoft. This highlights the ongoing competitive landscape among the top gaming publishers.
Adaptation and Innovation
The Best Adaptation category features an eclectic mix, including Castlevania: Nocturne and The Super Mario Bros. Movie. This category underscores the expanding relationship between gaming and other entertainment mediums.
A Global Event
The Game Awards, combining fan votes with a jury of over 100 global media and influencer outlets, promises to be a global spectacle. The event, scheduled for December 7, is expected to reveal exciting new trailers and announcements, possibly including Grand Theft Auto VI.
Categories like Best Community Support and Innovation in Accessibility highlight the industry's focus on inclusivity and player engagement, recognizing games that go beyond entertainment to create meaningful, accessible experiences.
As the gaming industry continues to evolve, The Game Awards 2023 stands as a testament to its diversity and innovation. With a blend of established franchises, indie surprises, and a redemption story, this year's event encapsulates the dynamic nature of the gaming world. It's not just about who wins but about celebrating the artistry, creativity, and technological advancements that continue to push the boundaries of what games can be. The anticipation for December 7 reflects not just excitement for awards but for a glimpse into the future of gaming.
Here are the nominees:
Best Game Direction
Alan Wake 2
Baldur's Gate 3
Marvel's Spider-Man 2
Super Mario Bros. Wonder
The Legend of Zelda: Tears of the Kingdom
Best Narrative 
Alan Wake 2
Baldur's Gate 3
Cyberpunk 2077: Phantom Liberty
Final Fantasy 16
Marvel's Spider-Man 2
Best Art Direction
Alan Wake 2
Hi-Fi Rush
Lies of P
Super Mario Bros. Wonder
The Legend of Zelda: Tears of the Kingdom
Best Score and Music 
Alan Wake 2 (Composer Petri Alanko)
Baldur's Gate 3 (Composer Borislav Slavov)
Final Fantasy 16 (Composer Masayoshi Soken)
Hi-Fi Rush (Audio Director Shuichi Kobori)
The Legend of Zelda: Tears of the Kingdom (Composed by Nintendo Sound Team)
Best Audio Design 
Alan Wake 2
Dead Space
Hi-Fi Rush
Marvel's Spider-Man 2
Resident Evil 4
Best Performance 
Ben Starr (Final Fantasy 16)
Cameron Monaghan (Star Wars Jedi: Survivor)
Idris Elba (Cyberpunk 2077: Phantom Liberty)
Melanie Liburd (Alan Wake 2)
Neil Newbon (Baldur's Gate 3)
Yuri Lowenthal (Marvel's Spider-Man 2)
Innovation in Accessibility 
Diablo 4
Forza Motorsport
Hi-Fi Rush
Marvel's Spider-Man 2
Mortal Kombat 1
Street Fighter 6
Games For Impact 
A Space For The Unbound
Chants of Sennaar
Goodbye Volcano High
Tchia
Terra Nil
Venba
Best Ongoing 
Apex Legends
Cyberpunk 2077
Final Fantasy 16
Fortnite
Genshin Impact
Best Community Support 
Baldur's Gate 3
Cyberpunk 2077
Destiny 2
Final Fantasy 16
No Man's Sky
Best Independent Game 
Cocoon
Dave The Diver
Dredge
Sea of Stars
Viewfinder
Best Debut Indie Game 
Cocoon
Dredge
Pizza Tower
Venba
Viewfinder
Best Mobile Game
Final Fantasy 7: Ever Crisis
Hello Kitty Island Adventure
Honkai: Star Rail
Monster Hunter Now
Terra Nil
Best VR/AR 
Gran Turismo 7
Horizon Call of The Mountain
Humanity
Resident Evil Village VR mode
Synapse
Best Action Game 
Armored Core 6: Fires of Rubicon
Dead Island 2
Ghostrunner 2
Hi-Fi Rush
Remnant 2
Best Action/Adventure 
Alan Wake 2
Marvel's Spider-Man 2
Resident Evil 4
Star Wars Jedi: Survivor
The Legend of Zelda: Tears of the Kingdom
Best RPG 
Baldur's Gate 3
Final Fantasy 16
Lies of P
Sea of Stars
Starfield
Best Fighting 
God of Rock
Mortal Kombat 1
Nickelodeon All-Star Brawl 2
Pocket Bravery
Street Fighter 6
Best Family 
Disney Illusion Island
Party Animals
Pikmin 4
Sonic Superstars
Super Mario Bros. Wonder
Best Sim/Strategy 
Advance Wars 1+2: Re-Boot Camp
Cities: Skylines 2
Company of Heroes 3
Fire Emblem Engage
Pikmin 4
Best Sports/Racing 
EA Sports FC 24
F1 23
Forza Motorsport
Hot Wheels Unleashed 2: Turbocharged
The Crew Motorfest
Best Multiplayer 
Baldur's Gate 3
Diablo 4
Party Animals
Street Fighter 6
Super Mario Bros. Wonder
Best Adaptation 
Castlevania: Nocturne (Powerhouse Animation/Netflix)
Gran Turismo (PlayStation Productions/Sony Pictures)
The Last of Us (PlayStation Productions/HBO)
The Super Mario Bros. Movie (Illumination/Nintendo/Universal Pictures)
Twisted Metal (PlayStation Productions/Peacock)
Most Anticipated Game 
Final Fantasy 7 Rebirth
Hades 2
Like A Dragon: Infinite Wealth
Star Wars Outlaws
Tekken 8
Content Creator of the Year 
Ironmouse
PeopleMakeGames
Quackity
Spreen
SypherPK
Best Esports Game 
Counter-Strike 2
DOTA 2
League of Legends
PUBG Mobile
Valorant
Best Esports Athlete 
Lee "Faker" Sang-Hyeok (League of Legends)
Mathieu "Zywoo" Herbaut (CS:GO)
Max "Demon1" Mazanov (Valorant)
Paco "Hydra" Rusiewiez (Call of Duty)
Park "Ruler" Jae-Hyuk (League of Legends)
Phillip "Imperialhal" Dosen (Apex Legends)
Best Esports Team 
Evil Geniuses (Valorant)
Fnatic (Valorant)
Gaimin Gladiators (Dota 2)
JD Gaming (League of Legends)
Team Vitality (Counter-Strike)
Best Esports Coach 
Christine "Potter" Chi (Evil Geniuses – Valorant)
Danny "Zonic" Sorensen (Team Falcons – Counter-Strike)
Jordan "Gunba" Graham (Florida Mayhem – Overwatch)
Remy "Xtqzzz" Quoniam (Team Vitality – Counter-Strike)
Yoon "Homme" Sung-Young (JD Gaming – League of Legends)
Best Esports Event  
2023 League of Legends World Championship
Blast.TV Paris Major 2023
EVO 2023
The International DOTA 2 Championships 2023
Valorant Champions 2023