Apple has once again set the standard for wearable technology with the introduction of its "Double Tap" feature, now available for the Apple Watch Series 9 and Apple Watch Ultra 2 in watchOS 10.1. Designed for users on the go, this innovative gesture brings a higher level of convenience, allowing users to effortlessly control their watch, especially when their other hand is occupied.
A Hands-Free Approach to Watch Interaction
Double Tap's inception addresses a modern-day problem: multitasking. While carrying groceries, walking the dog, or simply holding a cup of coffee, users often find it challenging to interact with their devices. With Double Tap, Apple streamlines this process by letting wearers activate primary actions in apps by merely tapping their thumb and forefinger together, twice. No more scrambling to touch the watch display or digital crown.
The gesture offers numerous functions. For instance, users can swiftly open the Smart Stack from any watch face, answer and end phone calls, manage music playback, and much more. And while Apple continually expands on gesture-based controls, the addition of Double Tap illustrates a step towards more intuitive device interactions.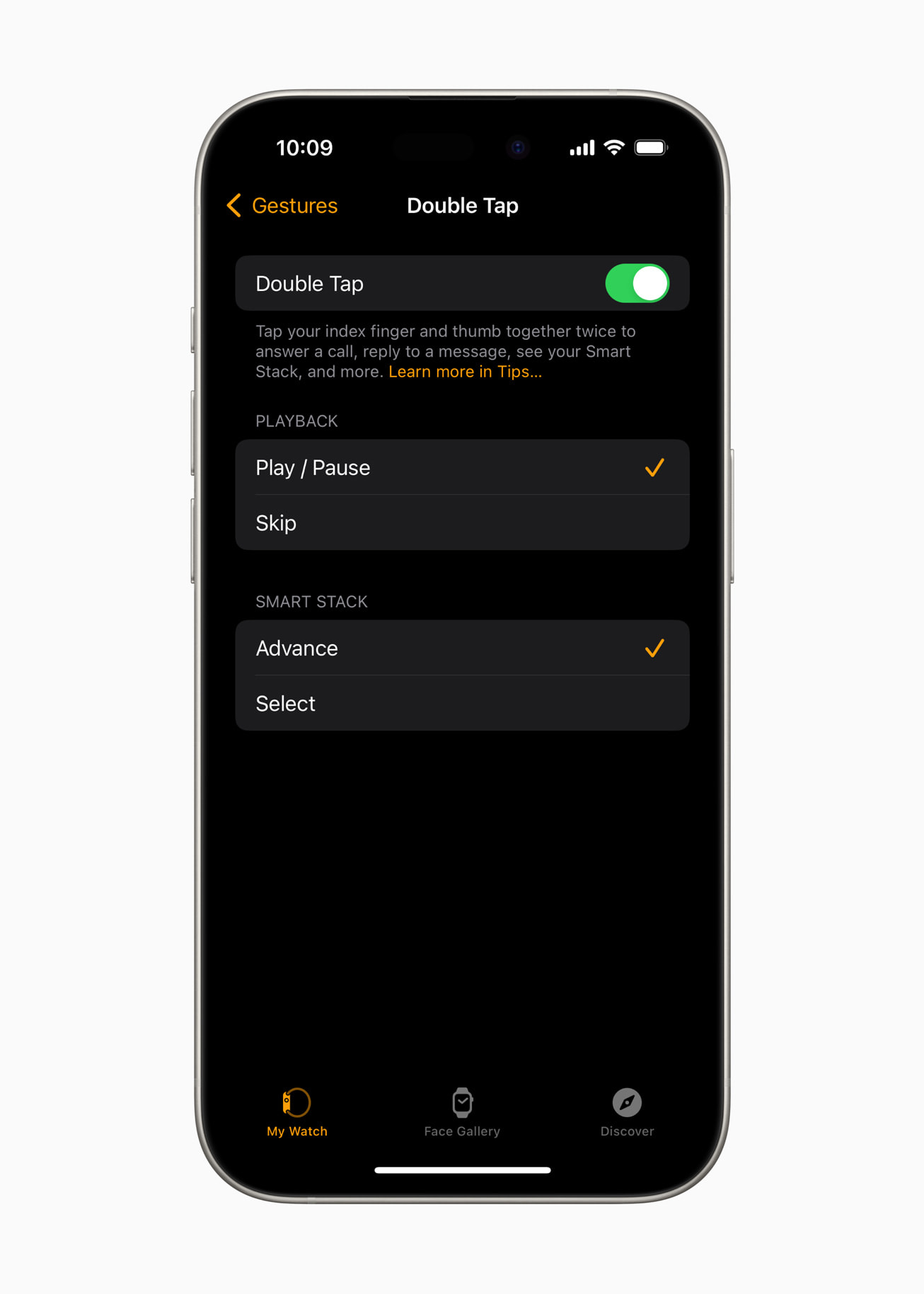 Behind the Scenes: The Technology of Double Tap
The brains behind Double Tap lie in the S9 SiP, renowned for being 25 percent more energy efficient than its predecessor. Complemented by the new 4-core Neural Engine, the watch can process tasks doubly fast. Notably, this Neural Engine absorbs data from various watch sensors to identify the distinctive movements and subtle blood flow changes occurring during a double tap. This complex recognition happens without significantly affecting the battery life of either watch variant.
Customization and Availability
For the tech-savvy user, Apple has integrated customization options. While the Double Tap is primed to pick the primary action for numerous apps, users can tweak certain settings to better suit their preferences. The feature is immediately available for Apple Watch Series 9 and Apple Watch Ultra 2, with minimal setup needed. However, Apple has made it clear that some apps and experiences, including ECG, Sleep Focus, and active Workout sessions, won't support the Double Tap gesture.
Apple's commitment to enhancing user experience and accessibility is evident with the Double Tap gesture's introduction. By merging thoughtful design with intricate technology, Apple continues to redefine how we interact with our devices and, by extension, the world around us.