Taiwan Semiconductor Manufacturing Co Ltd (TSMC), the giant in the semiconductor industry, has shelved its plans to establish a cutting-edge chip plant in northern Taiwan. The decision follows the swelling local resistance against the proposed expansion of the Longtan Science Park in Taoyuan, where the chip plant was to be situated.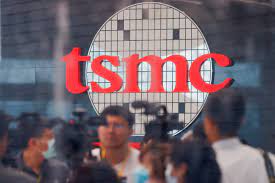 Contested Grounds
Reports earlier hinted that TSMC was keen on developing a 1-nanometre chip factory in Longtan, which is already home to the company and other tech behemoths. However, these ambitions ran into a roadblock as local residents expressed their concerns. The main point of contention: the government's method of land acquisition for the expansion of the industrial park. There were allegations of the government purchasing land at rates below market value, causing unrest among the local community.
Taiwan's Chip Prowess
Taiwan holds a significant stake in the semiconductor arena, with TSMC leading the charge. As proof of their commitment, the company annually channels more than $30 billion into new facilities and machinery. The company's 3-nanometre technology is currently its most advanced in mass production, but there are ongoing projects for even more advanced 2-nanometre chip factories, such as the one in Kaohsiung.
Chen Chi-mai, Kaohsiung's mayor, confidently stated that his city is equipped with sufficient resources—land, water, and power—for more semiconductor factories. This sentiment echoes Taiwan Economy Minister Wang Mei-hua's commitment to supporting TSMC with its requirements, given the pivotal role semiconductors play in Taiwan's economy.
Global Expansion Ventures
While TSMC is deeply rooted in Taiwan, its vision is global. Currently, the company is channeling about $40 billion into constructing two chip factories in Arizona, bolstered by US subsidies. Additionally, TSMC is laying the groundwork for a campus in Kumamoto, Japan, in collaboration with Sony Group Corp.
TSMC's decision to retract its northern Taiwan plant plans underlines the challenges even industry titans face when navigating local interests. As the company continues its quest for dominance in the semiconductor world, striking a balance between industrial growth and community concerns will remain paramount.