Microsoft has made a significant move in the AI domain by hiring former OpenAI CEO Sam Altman and co-founder Greg Brockman to spearhead a new advanced AI research team. This development follows a tumultuous period at OpenAI, marked by Altman's departure and a failed negotiation for his return.
Leadership Shake-up at OpenAI and Microsoft's Strategic Hiring
Altman's exit from OpenAI was sudden, as the board expressed a lack of confidence in his leadership. Despite attempts to reinstate him, negotiations broke down, leading Microsoft to seize the opportunity to enhance its AI capabilities. Microsoft CEO Satya Nadella announced the hiring of Altman and Brockman, stating that the company is prepared to provide the necessary resources for their success.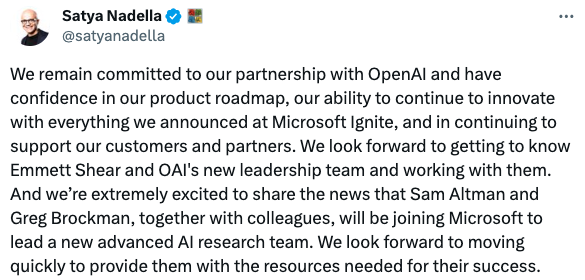 Altman and Brockman's Roles at Microsoft
In this new role, Altman and Brockman will focus on cutting-edge AI research, building on their extensive experience and expertise in the field. Nadella's statement hints at giving them the autonomy to foster an independent identity and culture within Microsoft, akin to what has been done with GitHub, Mojang Studios, and LinkedIn.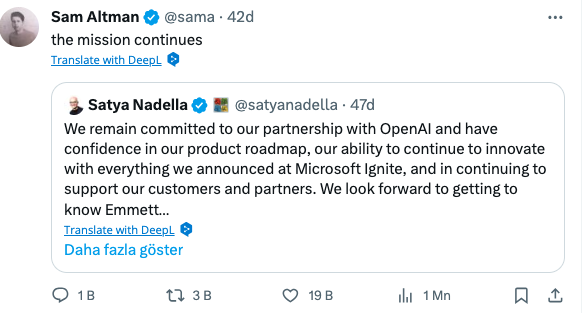 OpenAI's New Leadership and Future Direction
Following Altman's departure, Emmett Shear, co-founder and former CEO of Twitch, has reportedly been appointed as interim CEO of OpenAI, taking over from Mira Murati. Although OpenAI has not officially confirmed Shear's role, Microsoft's acquisition of Altman and Brockman indicates a forthcoming announcement of new leadership at OpenAI.
Microsoft's Ambitious AI Endeavors
Microsoft's formation of a new AI team aligns with its recent advancements in custom AI and cloud technologies. The tech giant unveiled its own AI chip, designed to train large language models, potentially reducing dependence on Nvidia. Additionally, Microsoft's Azure data centers are set to be powered by these custom silicon chips. This strategic direction demonstrates Microsoft's commitment to AI innovation and its ongoing collaboration with OpenAI.
Altman's negotiations with investors for a custom AI chip project, codenamed "Tigris," and his new role at Microsoft signal a shift in the AI landscape. Microsoft's multibillion-dollar investment in OpenAI and its status as the exclusive cloud partner underscore the intricate relationship between the two entities. As Microsoft strengthens its AI capabilities, the industry eagerly anticipates the impact of these developments on future AI advancements and collaborations.
The recent developments at OpenAI and Microsoft mark a pivotal moment in the AI industry. With new leadership at OpenAI and the addition of Altman and Brockman to Microsoft's AI team, the dynamics of AI research and development are poised for significant transformation. The industry will closely watch how these changes influence the trajectory of AI innovation and collaboration.